Related Pages
Gaeta 5 is a cute little spud of a continent, although I should really say a cute little peanut shaped continent. While not as big as most of the other continents, it's densely populated, and offers 3 roads to explore; Route 7, 7A and 7B. The continent is surrounded by sailable waters and coastal waterways, so you can sail around it in addition to road travel. Gaeta 5 is fairly flat, with no mountains or inland bodies of water, so it's not quite as interestng as some of theother continents, such as Heterocera. Still, it offers many sites to see, and some interesting travel challenges with some sections of Route 7 being underwater.
According to the Second Life Wiki, Gaeta 5 was intended to be one of a series of 5 continents named Gaeta 1 through Gaeta 5, but only Gaeta 5 was completed and has road routes. It has no railway system, but it is linked to the continent of Corsica by a water passage, so you can sail to or from Gaeta 5 in your explorations! :)
Road Map of Gaeta 5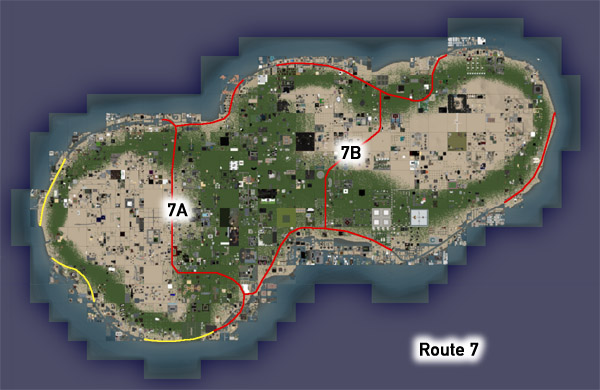 Road Guides for Gaeta 5
Let's hit the road!