Introduction

The Continents

The Drive Guides

Tips for Travelers

Contact Info

The continent of Heterocera

Route 1, Traverse Road and Atoll Road

Route 2 (and several other roads)

Southwestern Heterocera

Route 3, 3a , 3b and 3.5

Route 4

Route 5

Route 6 and the Great Wall

SL Railway on Heterocera

Important intersections and road end points

The Continent of Gaeta 5

Route 7

Route 7A and 7B

The Continent of Satori

Route 8

Route 8A

Route 8B and Old Wagon Road

Route 8C

The Continent of Jeogeot

Route 9 and 9A

Route 10 and Northern Spur Road

Wellington Road and "The Shortcut"

West Coast Road, The Moleway and an Off-Road Route

The Continent of Corsica

Route 11 and Magellan Pass

Circuit La Corse and its sideroads

The Continent of Nautilus

Route Route 12, 12A and 12B

Route 13

Route 14
Gaeta 5 is a cute little spud of a continent, although I should really say a cute little peanut shaped continent. While not as big as most of the other continents, it's densely populated, and offers 3 roads to explore; Route 7, 7A and 7B. The continent is surrounded by sailable waters and coastal waterways, so you can sail around it in addition to road travel. Gaeta 5 is fairly flat, with no mountains or inland bodies of water, so it's not quite as interestng as some of theother continents, such as Heterocera. Still, it offers many sites to see, and some interesting travel challenges with some sections of Route 7 being underwater.
According to the Second Life Wiki, Gaeta 5 was intended to be one of a series of 5 continents named Gaeta 1 through Gaeta 5, but only Gaeta 5 was completed and has road routes. It has no railway system, but it is linked to the continent of Corsica by a water passage, so you can sail to or from Gaeta 5 in your explorations! :)
Road Map of Gaeta 5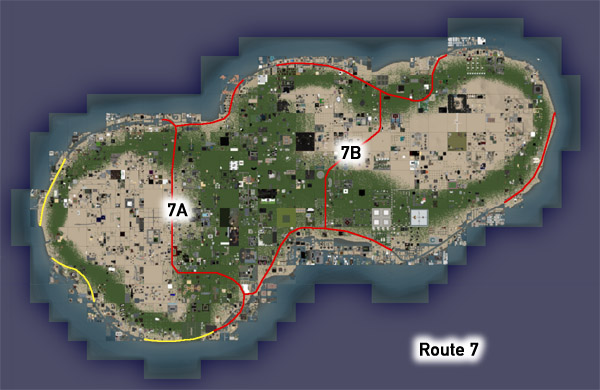 Road Guides for Gaeta 5
Slow down and enjoy the scenery!