Introduction

The Continents

The Drive Guides

Tips for Travelers

Contact Info

The continent of Heterocera

Route 1, Traverse Road and Atoll Road

Route 2 (and several other roads)

Southwestern Heterocera

Route 3, 3a , 3b and 3.5

Route 4

Route 5

Route 6 and the Great Wall

SL Railway on Heterocera

Important intersections and road end points

The Continent of Gaeta 5

Route 7

Route 7A and 7B

The Continent of Satori

Route 8

Route 8A

Route 8B and Old Wagon Road

Route 8C

The Continent of Jeogeot

Route 9 and 9A

Route 10 and Northern Spur Road

Wellington Road and "The Shortcut"

West Coast Road, The Moleway and an Off-Road Route

The Continent of Corsica

Route 11 and Magellan Pass

Circuit La Corse and its sideroads

The Continent of Nautilus

Route Route 12, 12A and 12B

Route 13

Route 14
Heterocera has lots to offer to travelers! It's home to Routes 1-6, the Great Wall, many side-roads and a railroad. In addition, it has sseveral waterways and is even connected by water to the continent of Sansara (ut oh, sounds like I might need to make Second Seas next, lol). If you only have time to visit just one continent, this is a good one.
Heterocera is a large atoll, with plenty of water views and has a variety of terrain from flatlands to low rolling hills to a mountain range featuring the tallest peaks in all of SL. When I traveled from the south western corner of Heterocera to the north east, I noticed a definite change in terrain and environment. This is definitely a fun continent to explore.
If you want to tour the entire continent on one continuous road, I would suggest starting at Big Junction (listed in my travel guides) and following Route 1 as it loops around the entire atoll. Route 1 finally ends at an un-named road and bridge (shown on this map as "Aged Wooden Bridge Road", but inworld simpy says "Protected Land") that goes across the bay and ends at a much earlier point on Route 1, albeit not quite at its beginning. The railway also offers a loop around the entire atoll, but doesn't go across the bay.
I've put together drive guides for each of the Routes and all the side-roads on Heterocera. I tried to put together drives that will take you along all of the roads, with as little back-tracking as possible, but there are so many roads on this continent that it's not always possible. There is also a page of important intersections and starting/ending points. If you need more information on how to use the travel guides, please check out the how-to page. Be sure to check out the Tips for Travelers section as well for tips to make your road-trip more enjoyable.
Road Map of Heterocera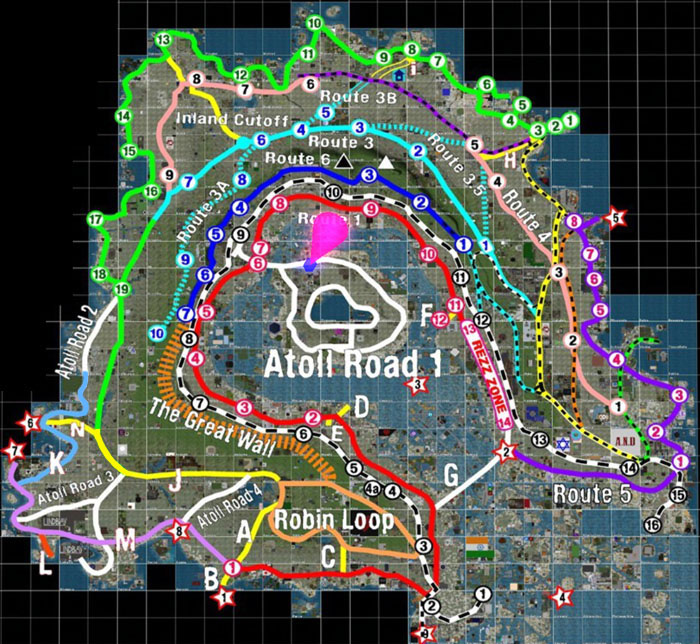 This is the most complete, most recent map of Heterocera I could find. It's kinda ugly, but its useful. If you have a more up to date map, please feel free to contact me inworld!
Road Guides for Heterocera
Get in the car and go!